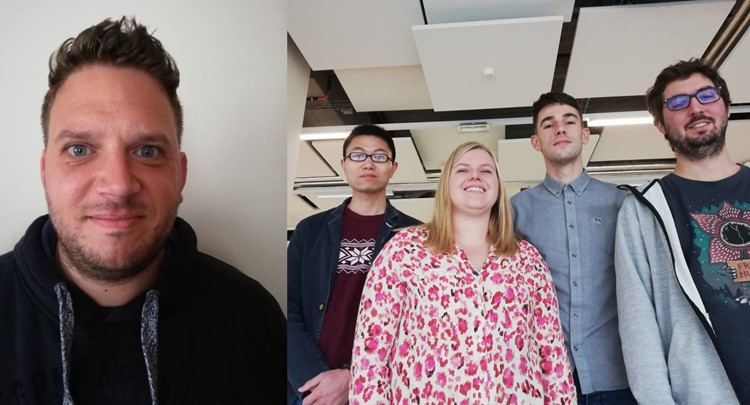 This fall, we welcome new group members working on various projects on MOF thin films and 3D printing. (L-R) Bart, our new lab manager, will ensure the smooth and safe operations in our facilities in both Leuven Chem&Tech and the NanoCentre, while Fei joins the 3D printing workforce.
We would also want to congratulate Lore and Giel for their FWO Ph.D. fellowships, and Victor for his grant as a postdoctoral researcher in the framework of Marie Skłodowska-Curie Actions - Seal of Excellence.
More information on FWO and the available grants and support it provides can be found here.
This year, seven brilliant and dynamic M. Sc. students from the Faculty of Bioscience Engineering join the group for their master thesis projects.
(top, L-R) Jochen, Emilie, Laura, Jonas, (bottom, L-R), Jorid, Margot, and Dieter will be working on different projects on new deposition technologies for metal-organic framework thin films and their applications in gas sensing and membrane technologies, as well as 3D-printed platforms for catalysis and point-of-care diagnostics.
We are so enthused to welcome our biggest batch of students (so far!) and we are looking forward to having fun in the lab (and in the cleanroom) with these kiddos!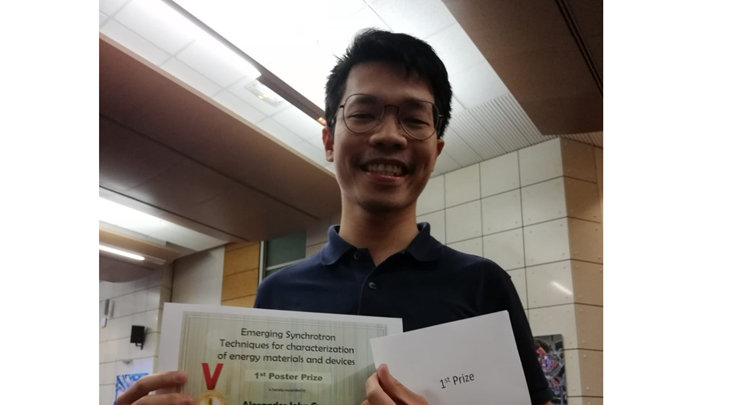 With 100 participants from different synchrotron users, Alex' poster, entitled, "An integrated cleanroom process for the deposition of large-area MOFs was chosen as the Best Poster in the recently concluded workshop at the European Synchrotron Radiation Facility in Grenoble. The mini-conference, with the theme, "Emerging synchrotron techniques for characterization of energy materials and devices" focused on the application of established and emerging synchrotron experimental techniques to understand questions in energy materials. The ESRF scientists also introduced new opportunities following the ESRF-Extremely Brillian Source upgrade.
More information on the workshop, the book of abstracts, and conference program can be found on this here.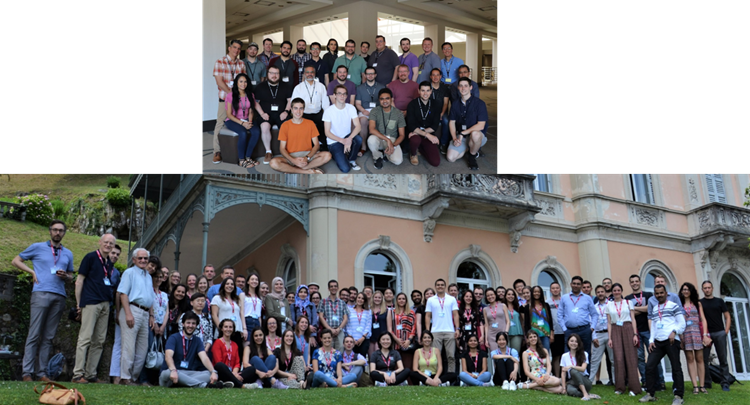 While some are headed to the beach or a quiet villa for their summer holidays, some members of the Ameloot Group chose to do it the other way around.
Nathalie traveled to Lake Como in Italy to join the 1st International School on Advanced Porous Materials (MOFSchool) and learned about shaping metal- and covalent-organic frameworks into next-generation materials. The MOFSchool, jointly organized by the Universities of Insubria, Milano La Statale, and Granada, has made a great effort to encourage the participation of young, enthusiastic scientists from all over the world, and invited big names in the field as lecturers.
Rob was also there to present our group's work on MOFs entitled: "From the lab to the fab: bringing MOFs into microelectronics" spot the tallest guy in the photo below :)
Meanwhile, Alex went to Albuquerque in New Mexico to join the 2019 edition of the US Particle Accelerator School. This fully-funded workshop is an academically rigorous graduate-level program that provides training and workforce development in the S&T of particle accelerators and associated systems. International participation from various backgrounds (materials science, medicine, physics, and engineering) gathered for this week-long workshop.
Both Nathalie and Alex were competitively selected from hundreds of application on the basis of their potential in their respective fields.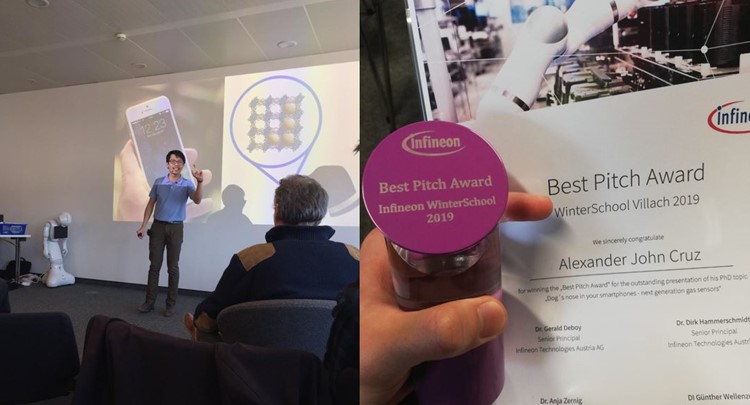 Alex once again showcased the power of MOFs before an interdisciplinary audience at Infineon Technologies in Austria. With this year's theme "Chip of the Future", Alex together with 7 other PhD students from Europe presented their research topic in a form of a short pitch to their peers, professors, and industry experts. The jury was convinced that the "dog's nose in your smartphones - next generation gas sensors" was the best pitch among the finalists.
Infineon Technologies organized the PhD pitch as a part of the Winter School 2019 which took place in their manufacturing site in Villach from February 28 to March 1.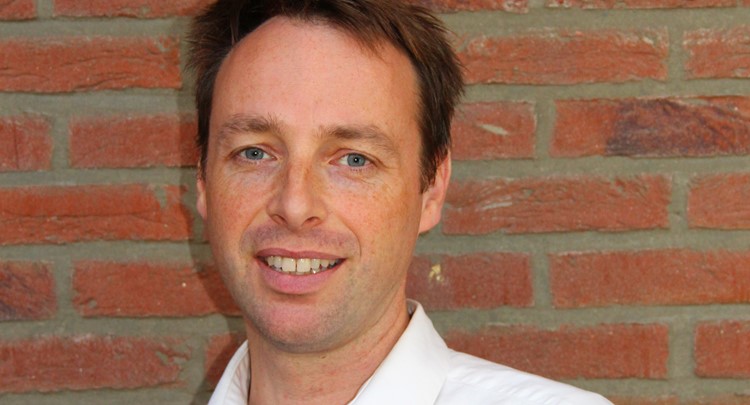 The Ameloot Group warmly welcomes Bart van Duffel as the team's Innovation Manager. Bart's mission is to create value for industrial partners based on the group's research output. He will also lead the intellectual property management domain of the team. He obtained his Ph.D. at KU Leuven in 2001, under the supervision of Prof. Robert Schoonheydton, with his work entitled "Composite Ultrathin Films" focused on optical applications. Bart has gained R&D and general management experience in the field of surface treatments and printing of materials and environment.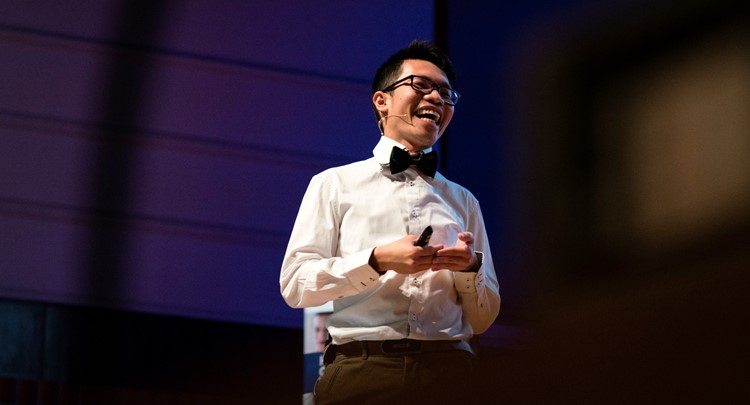 With his pitch entitled "A dog's nose in your smartphones - next generation gas sensors", Alex took home the crown in the recently concluded PhD cup in Brussels. After 2 rounds of selections, Alex won the jury's choice, besting 7 other finalists from the natural sciences and engineering, medicine and the social sciences and law domains.
The PhD cup challenges young scientists to translate their research to a three minute spiel, appealing and intelligible to a wide audience of different backgrounds.
Marianne Kräuter will join the Ameloot Group for a month, starting October 2018. She will learn how to make ZIF-8 from ALD-deposited ZnO using different recipes, yielding a wide array of properties. Marianne recently started her PhD at the Graz University of Technology, Austria, under the co-supervision of Prof. Anna Maria Coclite and Prof. Roland Resel.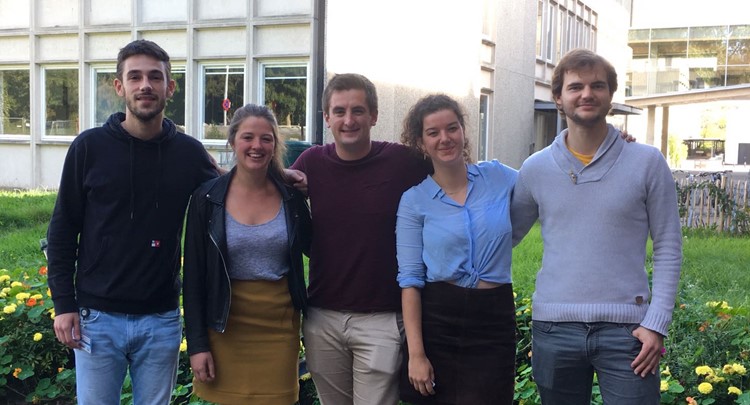 After doing their master's thesis at the Ameloot Group, five fresh Belgian researchers join the force as PhD students. They will be carrying out research on porous materials, atomic/molecular layer deposition, 3D printing for a variety of both fundamental and applied studies. (L-R) Giel, Nathalie, Pieter and Hanne received a Master's degree in Bioscience Engineering (Catalytic Technology), while Ruben (far right) was awarded with a Master in Bionanotechnology from KU Leuven in 2018. Building from their early-stage projects, they will work on developing materials for catalytic, biomedical, and environmental applications.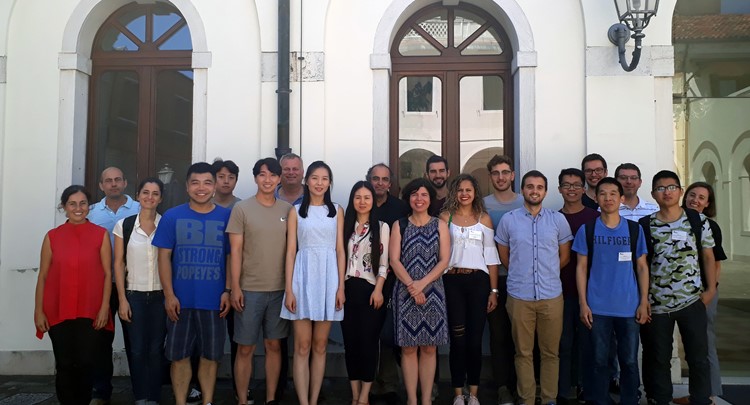 As part of the 2018 edition of the International PhD Academy at the Venice International University on July 9, Alex bested 16 other finalists from other universities in Asia, Europe, and North America with his poster entitled "LAB-2-FAB: molecular layer deposition of microporous crystalline networks for sustainable manufacturing". The week-long Academy held is an interdisciplinary program of activities aimed at facilitating discussion and exchange of ideas related to sustainable energy hosted annually in Venice.
The sessions gave the students an opportunity to discuss their research with students and professors working on related topics, in an international and interdisciplinary context.
More information can be found here.